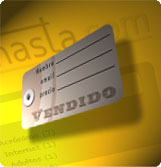 In order to sell your domain in Banasta, you have to follow these three steps:
Register as a user from Banasta, it's quick and easy, you just have to fill up the registration form.
Once you are registered, access your account and click in the "sell a domain" link from your control panel.
Then just fill up the "sell domains" form , set your asking price (without taxes) and click on "send".
Your domain will become an active auction in our system, and from that moment people will be able to bid for it. The negociation will be active as long as there are bids from users and once the bids stop for 14 days the system will close the negociation and the domain will be sold to the highest bidder of your domain.
Once the auction is finished both buyer and seller will receive an email confirming the closing of the auction with each other's contact details so they can settle the terms of the transaction.
Once the system sends the closing auction email it will be the participants' responsability to choose the method of payment as Banasta doesn't take part in this part of the transaction. There are several escrow services available on the Internet that participants of the transaction can use, for example: http://www.escrow.com.